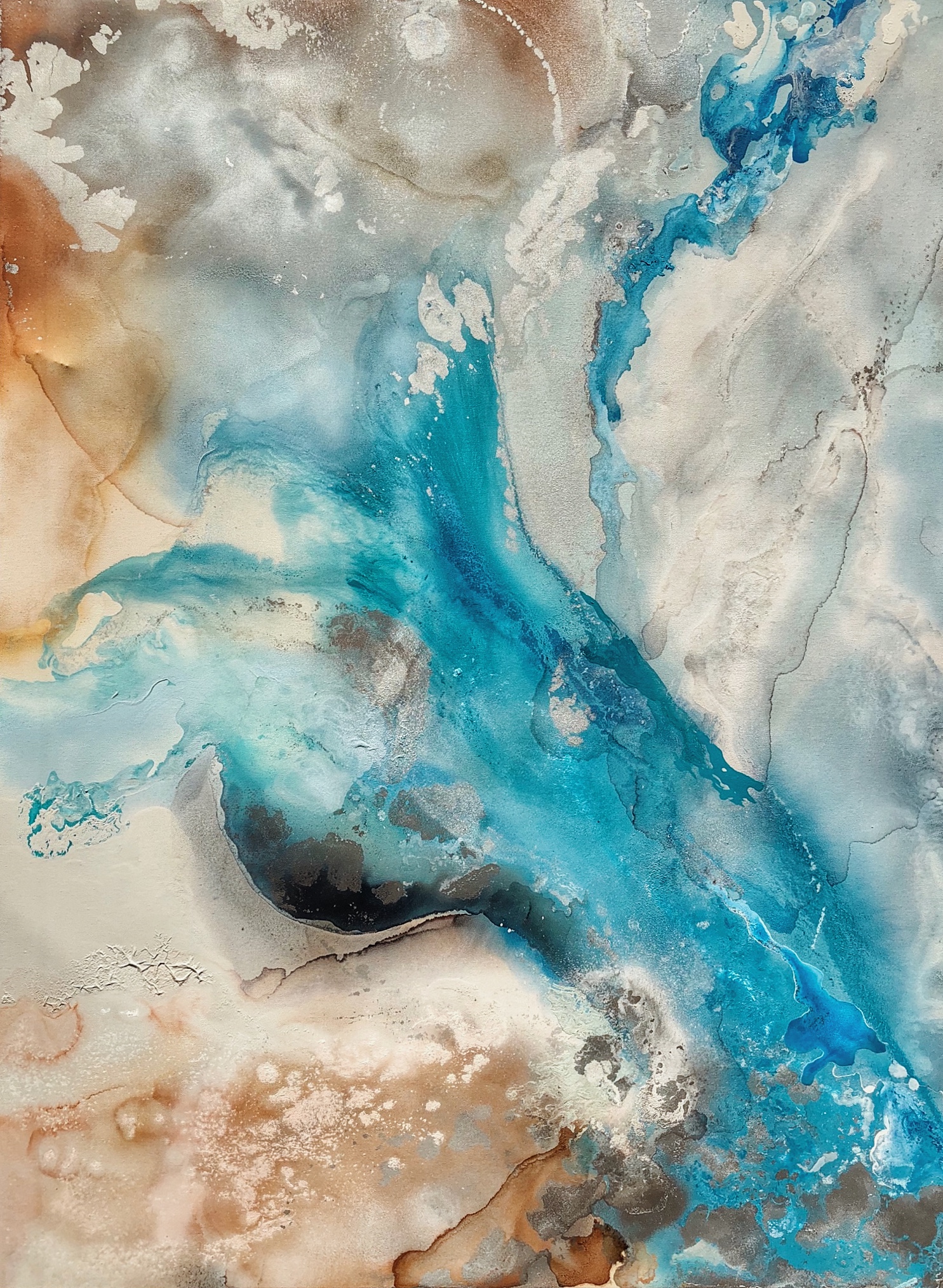 I am so in love with the female form. The female essence of life. I am so grateful to walk this path of beauty. Connected to every living thing on this planet. This piece is a visual representation of just that. Mumma ocean. The flow. The depth. The strength and the exceptional beauty of the sea. As women we are so deeply connected to the sea, and every part of this wonderful world.
'I am a part of you and you are a part of me'.
Seedlings emerging from the depths of the earth. The leaves in the wind. Cascading waterfalls. Sky high treetops. Ripples in the rivers. Wildlife chirping, croaking and roaring. Moonlit oceans. Sun kissed children. Flower petals falling in the changes of season.
Fellow Women -Creator beings, I see you and love to see you shine - Sal
Dimensions 122x91.5 cm
SOLD $2000
For enquiries please contact sally@sallymustang.com
Music Of The Sea
The blue of my eyes mirrored the ocean. My hair was the wild waves. The freckles on my nose told kisses from the sun.
The sea has music for those who listen.
At times an angry, wild noise. At times a soft, gentle ripple and high-tides that roll in.
I love that our world is surrounded by this. I love listening to the sea. I love it's song.
Painting for me is a beautiful process, my art represents the colours I have seen, the landscapes I love, the dreams and good vibrations.
Artwork size: 76 x 1010cm
SOLD: $1000
For enquiries please contact sally@sallymustang.com
True Colours
Get to know your heart. It knows things the mind can't understand. Listen to it.
Listen above the crowded voices in the head. Be open to its possibilities.
Let the heart guide you on the big decisions. It's your true colours
Artwork size: 102 x 120cm
SOLD: $1500
For enquiries please contact sally@sallymustang.com
Questions
Be bold. Answer the tough questions. Be honest with yourself:
Who are you?
Why are you here ?
Where are you going ?
What's holding you back ?
Is life an adventure ?
Where do you give back ?
Let the questions carry you to a better understanding of yourself. Feel the power of your answers. The softness of your truths. Let them help heal you. Adopt your new found freedom.
This piece is dedicated to a time when I asked myself these exact questions. I spent three days answering them and had a massive breakthrough afterwards. I then painted this artwork. I hope when you look at this piece you too begin to ask yourself these questions. I hope they lead you somewhere wonderful.
Artwork size: 120 x 152cm
SOLD $2800
Art That Did Not Begin With Emotion Is Not Art
Beauty comes in many forms.
Often the hardest, messiest moments are reflected on and seen with so much passion and growth.
We always have to opportunity to change our perspective – tears rolling down your face can suddenly be seen as a beautiful moment. A gift really; to feel any emotion at all!
The anger is ugly, but usually it seems to soothe the sting a little; and it feels better than sadness. Fear is actually one of our most valuable emotions – once we understand it. Once we recognise that fear is not the same as worry or weakness, fear can be used as our vantage point; worry on the other hand, can not.
Suppressing any sensation is not my desire. It is what makes us human. I don't excuse how I feel, and can already see how to master the mind slightly when feeling these emotions. A change in attitude.
The hard, darker emotions actually lead to the lighter ones – strength, happiness, acceptance, slarity, compassion, peace and love. For emotions are what motivate us and lead to action.
These challenges are part of the story; an opportunity to make change, reflect and understand others around you. All our hopes and dreams can now be within reach once we embrace this.
Without love – what would motivate us to do anything?
So this piece is for all the tears, the smiles, the giggles, the tight embraces, the terror, the guilt, the fears, but ultimately, the feeling of LOVE .
Artwork size: 120 x 90cm
SOLD $1500
For enquiries please contact sally@sallymustang.com
Jala: the word means water in Sanskrit.
Even the word .. Jala is soothing. Calm.
I owe every moment of peace in my life to water. Whether it's the ocean, a waterfall, a stream, a lake or rain..
Hydration to the body… Cooling off or washing in a shower. It's a body of water, that brings me peace.
Being a personality of fire means I am determined. Energised. Motivated and loud. Water is what I crave to cool that fire. To provide calm. Peace. Rest.
Stay hydrated everyone. Stay calm.
For purchase enquiries or enquiring about using this art in your shop/cafe etc. on consignment, please email contact@sallymustang.com
Artwork size: 122 x 97cm
SOLD $1500
For enquiries please contact sally@sallymustang.com
Searching For The Rainbow
Does it help you stay up late?
Does it help you concentrate or create?
Sorry.
Am I ruining your fun?
This piece represents that crazy almost desperate search that we go on for a rainbow when skies are grey. The eager pursuit for happiness when your having a low. This is searching for the rainbow.
Artwork size: 122 x 92cm
SOLD $1500
For enquiries please contact sally@sallymustang.com
It's Good To Feel Alive
This piece was a reflection of an incredible storm that I watched roll over the ocean one afternoon. the sunlight was still upon the water so it turned a beautiful azure blue, while the grey and rain slowly crept up, saturating everything in sight, including myself. I remember yelling, screaming and smiling wide as the droplets covered my face. I often run or make a point of going outside when its pouring. I love the clean, renewing feeling of a storm. Its good to feel alive.
Artwork size: 183 x 122cm
SOLD $2500
For enquiries please contact sally@sallymustang.com
All The Colours I See Within You, Don't Even Exist Yet
Amazing sex stays with you. It soaks into your skin. It floats through your dreams and has you silently smoldering with delicious remembrances for hours after. It has you craving it days later. And it has you aching for it if you don't get it for awhile. This piece for me represents that colourful place that is sex and love together. It really takes me some where wonderful. Somewhere without limits, and somewhere without any sadness.
This piece is happy and crazy enjoy
Artwork size: 183 x 122cm
SOLD $2500
For enquiries please contact sally@sallymustang.com
Lighthouse
This piece represents the ocean I gaze at daily, standing on a cliff above the most easterly point of Australia. This particular view uplifts and clarifies my entire being. When it comes to capturing the spirit of adventure and Nature, while painting, I had to consider a balance between stillness, movement and the overwhelming scale of nature.
Artwork size: 122 x 92cm
SOLD $1500
For enquiries please contact sally@sallymustang.com
Life Would Be An Ecstasy, The Sea And Me Endlessly
Dear Salt Water, Thank you for everything;
Clarity. Cleanse. Soul. Therapy. Power. Fresh. Spirit. Beauty. Inspiration. Forever.
These are the first ten words that come to my head when I think of the Sea… What are yours?
The Ocean has certain healing powers; it can liven up your day, wash away your troubles, caress your soul and bring a fresh mind.
I hope when you look at this it's shows you some depth of my relationship between me and the sea. I hope it encourages you to be outdoors. Encourages you to connect with the ocean and look after her.
Appreciate the Beautiful power of the sea's that surrounds our island home. After all – waves are free.
Artwork size: 100 x 120cm
SOLD $1500
For enquiries please contact sally@sallymustang.com
An Indian Summer
In my mind I'm sitting on the beach at Little Vagator – Goa, India while I paint this. I have a group of beautiful Swedish, tranced-out hippies on one side of me, curing a hangover with a coconut each and some German backpackers on the other enjoying lunch from one of the various restaurants scattered on the sand…
This is a typical day in Goa, hippies, backpackers, and the local cows all enjoying the sunshine and black sandy beaches, until night time rolls in that is. Once the sun sets, Goa becomes a tribal dance party, as hundreds of travellers and temporary residents rave. I mean the type of raves you find in the outskirts of Bellingen and Byron Bay, except the colour, lights, drugs and everything in general is magnified.
The music is louder, the dancing starts earlier and there are neon teepees everywhere. I actually felt overdressed for once in my life, wearing a ripped band shirt, denim shorts and some coin chokers I picked up earlier at the famous Anjuna markets. Everywhere I look people men, woman and children are clad in tiny leather skirts and vests with not much else on underneath, they all are wearing gladiator sandals or warrior style boots and store their drugs and cash in a leather bum bag around their waist.
I start to relax, have a dance and start to connect with others to the earthy trance music scene, which is Goa.
Besides the music and party scene in Goa, there are surprisingly daily yoga classes and people jogging the beach at sunrise. People are partying one day, doing yoga and eating healthy the next,
It's all a bit confusing but the hippies that trance love their bodies and the environment as much as they love their late night drugs.
In Goa you will find more vegetarian, and vegan restaurants then you can count, Fresh juice is sold Everywhere for under $2 AUD, and even the traditional Indian restaurants and vendors are promoting a healthier range of curries and snacks.
Tree houses, huts, and tents are the accommodation of choice with a decor of pillows, rugs and lanterns. Backyards filled with jungle like vegetation and palms. Beach's with music and huts selling coconuts on the sand.
Hmmm Maybe ill stay here a while…
As I paint the bottom part of this artwork, my mind starts to travel to my time spent in India's Northern state of Rajasthan.
I am confronted with busy streets, insane traffic conditions, beggars, slums and livestock littering the roads. It's so busy, but yet somehow this colourful country seems to run happily in this organized chaos.
Although the initial shock of the mayhem in India is somewhat frightening and confronting, the country contains so much dazzle, amazement and beauty it's unreal and I'm soon lost in its magic.
A shamble of bazaars, an exotic building, a palace, woman in jewels, saris and silver trinkets, spiced chai tea is served everywhere and a selection of spices and fresh vegetables are to be seen on every corner. The trucks are like pieces of art and everyone is singing and dancing.
The country stirs the soul like no other place on earth. It's actually really hard for me to describe the emotions that India brings. The days are exhausting and hypnotizing. Everything jingles, everything sparkles, and it is hard not to fall for the magic that is in the air.
Oh India, mother India.
I hope this takes you somewhere beautiful. I hope it brings a smile to your face and I hope when you look at this you will feel inspired by the power of Colour.
I lose my mind when I create. My eyes sparkle. It's an Indian summer. Hot, colourful, beautiful, filled with wonder. I'm curious…
Artwork size: 92 x 122cm
SOLD $1500
For enquiries please contact sally@sallymustang.com
MITCH'S STORY
'Connection' a single word that can be described in many ways, but powerful in all.
As this artwork was my first ever collaboration, this artwork was a test for me, and a daunting one – A test of my emotions.
This artwork was created in July 2015, not long after Sal and I had first met. Both of us being artists meant that this piece was inevitable, which scared me.
I've only ever let a handful of people ever watch me create my work, let alone do it with me. The only other person I've ever let do this is my Mum. I was scared of how I would react to second opinion and in the back of my mind was the idea that this artwork, this situation, this new experience was going to either be the making or breaking of a relationship with a little blonde gypsy who already had my heart. This wasn't just another artwork and there was much more than the possibility of a ruined piece at-stake.
Despite some of the amazing work this gypsy had previously created herself, I was the teacher and she was my student. I'm a die-hard believer in the idea that – 'you create your own future' meaning that if this was to fail then I had myself to blame.
So this was it, we talked briefly about ideas for the piece then we decided on a colour pallet, and we decided on almost the exact same one.
When the mixing began I was hardly even talking. I had to have the music going so loud that we would have to yell at each other if we needed communicate (it's just how I work). In more ways than one we went into this blind but the result of what we created was nothing less than mind blowing, through my eyes at least.
My artwork doesn't just come together, this piece was created over a period of 4 weeks and it's officially the most detailed and complex piece that I've ever worked on.
Without saying it, we both knew this had to be good and despite the fear and anxiousness that this was built on, in my eyes we did it and then some.
This wasn't just an artwork, this wasn't just luck, this represented a new form connection for me and it's something that I'll forever appreciate.
Since this artwork was created I'm happy to say that our relationship has turned out to be just as pretty, maybe prettier.
This is not only an artwork but also an insight and an introduction into 'My new world' a new time, a new perspective and a new type of connection.
My New World: An artwork Mitch and I have created together.
This original resin artwork has sold, although you can purchase an reproduction acrylic of this artwork.
Artwork size 180 x 120cm
Please email Mitch or I for enquiries:
mitch@mgracorporation.com | contact@sallymustang.com
SALLY'S STORY
'Connection' a single word that can be described in many ways, but powerful in all.
Creating this Artwork was powerful. I think you can see this in the details, of course beautiful, but intense.
Intense, beautiful and powerful are words that I'd often use to describe my relationship with Mitch.
Creating together was a big deal, it was something I had suggested and Mitch said "yes, ok gypsy. "
I was excited to learn. I was excited for the unknown. I was excited to create and I went into this without any expectations. I was the student, Mitch my teacher.
This artwork was created in July 2015, not long after Mitch and I had first met.
When the mixing and creating began I was silent. Watching learning then playing. Silence while we created, was the one thing Mitch had asked of me. I talk a lot, laugh a lot, yell and in general make a Lot of noise, but I didn't even notice or have to try to be silent, from the moment Mitch started, I was in a trance. It's a beautiful thing to watch someone shine, someone create, someone happy and in a complete world of their own.
My turn came and after watching and I couldn't wait to play. I wanted to create something that reflected a landscape that Mitch had taken me to one morning on the Mornington peninsula. Sandstone cliffs over looking crystal clear water and reef.
This piece was created over a period of 4 weeks and two separate visits to Mitch's house/ studio. It changed as we changed. It became more and more powerful. It became complex and beautiful. It started to reflect not only landscapes that held my heart, but also started to reflect the feelings I had for the guy in front of me working all his magic.
I had so much fun creating this piece and I hope you can feel that when you look at this.
I hope it takes you somewhere beautiful. I hope it brings a smile to your face and I hope when you look at this you will feel inspired by the power of Love.